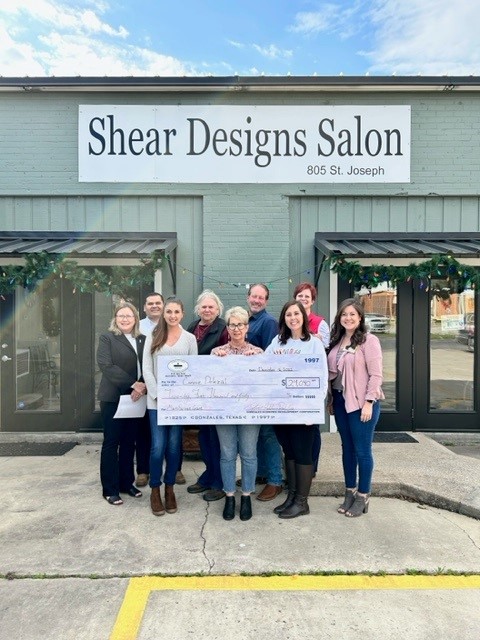 Gonzales Main Street in conjunction with the Gonzales Economic Development Corporation (GEDC) recently reimbursed Shear Designs for projects completed on the boutique and hair salon located at 805 N. St. Joseph. The boutique and hair salon opened in 2004. Before the boutique opened, the building was a gas station. The scope of the project included upgrading lighting, replacing old windows and awnings, painting the outside of the building, and replacing the fence.  
Shear Designs is a one-stop-shop for designer women's clothing, shoes, and accessories. Adjacent to the boutique is a full-service beauty salon.
"The salon and beauty shop were my sister's dream. She has since passed away, but I've been blessed to be able to carry on," said owner Connie Dolezal. "We have the best customers around and have received so many compliments on how the shop looks. Replacing the windows has made a huge difference. Our old windows were single pane and just not energy efficient. Our customers will undoubtedly have a more comfortable experience."
Gonzales Main Street, Inc. strives to assist in the preservation and revitalization of our Historic Main Street District. Through the transformational strategies of economic vitality, design, promotion, and organization, they focus on prosperity through preservation. "A vibrant downtown and successful Main Street Programs help move Gonzales in the right direction so that we can propel our community forward," said Tiffany Hutchinson-Padilla, Gonzales Main Street Director.
"Funds from the GEDC, a Type 4B economic development corporation, are administered through an agreement with Gonzales Main Steet empowering Main Street to give grants to qualifying businesses in the designated Main Street District. This project helped add value and preserve the building can be used as a business and for many years to come," said Jennifer Kolbe, GEDC Economic Development Director.
For additional information on the Gonzales Main Street Program: https://www.gonzales.texas.gov/p/departments/main-street
For additional information on the Gonzales Economic Development Corporation https://gonzalesedc.org/
For additional information on Shear Designs